'Cracking' Craig Callaghan – Welterweight
[ 15 – 1 – 0 ] 6 KO's!
Above The Rest, Welterweight Boxer
Stats:
Weight.. 147 lbs.
Callaghan is somewhat of an international sensation already as he has trained and competed professionally on three continents.  Craig was captain of the English team on many occasions, fought in various international competitions for England, and also won the prestigious Haringey Cup, Europe's biggest amateur competition.  Standing at 6'1 with an enormous wingspan and whip-like punching power which leaves foes senseless after feeling the 'crack', Callaghan is sure to be a force within the welterweight division for many years.
'Cracking' Craig Callaghan was born in Liverpool, England.
As a lad growing up he played every sport one could think of, including football (soccer), but was never great at any of them. Craig was introduced to the sport of boxing by a younger classmate who also boxed. Finally, Callaghan seemingly found his niche. Callaghan had lots of pent-up adolescent aggression and needed somewhere to channel it; the boxing gym offered the perfect place to do so. He followed his chum along to the gym and from that day forward never played any other sport again.
When reflecting on his first visits to the gym Craig states, "I had the boxing bug inside me. That was all I thought about t
wenty-four hours of each day."
Dedicating his free time and effort to boxing, Callaghan reached the semi-finals in his first national tournament, losing to the eventual winner. The following year, 2008, Craig won gold and became the national champion. Winning the nationals earned him the chance to represent England in multi-nations tournament where he won a silver medal in his first ever international competition. A year later Craig was selected as the captain of the England team and won gold at the multi-nations stopping the Welsh champion in the first round.
In 2010 Craig journeyed to America to begin a professional career, but his dreams were temporarily thwarted by visa issues and he had to return to his homeland.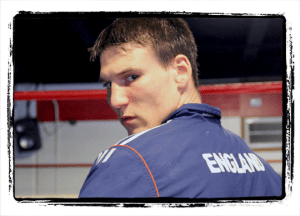 Back in England, Craig entered the National Championships for the last time losing in the semi-finals by the eventual winner by a point.
A month after the nationals he entered the prestigious Haringey Box Cup, Europe's biggest amateur tournament, and won the gold medal by beating the Italian National Champion. Shortly thereafter he moved to Australia where he had two pro fights winning both by KO.
When asked about fighting in America Craig says, "The adventure to the top really starts now."